Julia Bentley Dawkes
BPA hons, ATCL
My name is Julia Bentley-Dawkes and I have been playing the flute since I was eight years old. My flute lessons were fairly traditional and I did most of the ABRSM grade exams including my grade 8 which I passed in 1994 with 139 (one of the highest marks in the country at that time). I also took part in several competitions such as the Audi Young Musician of the Year and The Edith Bulmer Award which I won in 1997. Between 1996 and 2006 I regularly attended the Oxford Flute Summer School where I was lucky enough to learn with many of the worlds top flute players, including Peter Lucas Graf, Michael Cox, Wissam Boustany, Jaques Zoon, William Bennet, Suzan Millan, Peter Lloyd, Ian Clarke and Jonathan Snowdon.
Whilst at school I was also a member of the East Berkshire Music Centre in Windsor where I would go two or three times a week to play in orchestras, wind bands and flute ensembles. I also played percussion, the recorder and sang in several choirs including the Newlands Madrigal Choir and the renowned Berkshire Youth Choir.
Coming from a musical background (my mother is a music teacher and my father is a professional musician) I knew how difficult it would be to build a career as a performer so, when I was 18, I decided that I wanted to become an instrument repairer. I organised a week of work experience in the workshop at Dawkes Music in Maidenhead and started applying to universities and colleges. I was offered a place at Leeds College of Music to study woodwind repair but the course was cancelled at the last minute and I found myself on the performer's course instead. This worked out quite well for me and I eventually walked away with a handful of major prizes for woodwind, chamber music and concerto, as well as the prestigious Robert Tebb award for outstanding performance.
After Graduating from Music College I decided to move back to Maidenhead where I returned to Dawkes Music, this time as a sales assistant and then manager of their sister company Windcraft ltd I also started teaching and performing after work and at weekends. In 2002 I co-founded the flute duo Flutiful with the flautist Victoria Webb and we have since performed alongside some of Britain's top contemporary artists at venues including the NEC and Olympia in London. We have also been involved in numerous charity concerts, including a concert for the Leprosy mission, narrated by my grandmother, the actress Wendy Craig, and several sell out concerts for Breakthrough Breast Cancer.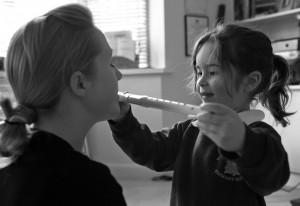 Although I am essentially a classical musician, I also enjoy performing with the Jazz pianist Laurie Holloway, and I have premiered a piece he originally wrote for James Galway. I am a trustee and tutor for the Montgomery Holloway Music Trust, which was set up by Laurie and his late wife, the Jazz singer Marion Montgomery, to give aspiring young musicians and singers the chance to perform and work with professional musicians. In addition to being a trustee of the Montgomery Holloway Music Trust I am also involved with the Lindsay Dawkes fund for musical development which was set up in memory of the late Lindsay Dawkes and aims to continue his work in helping to give all children the opportunity to learn a musical instrument.
I left the shop in order to pursue my performing and teaching career in 2005 and, up until this point I was still teaching in a fairly traditional style. Although my sister, Madeleine, who is a professional violinist, was initially taught using the Suzuki method it wasn't until I met the Scandinavian flautist, Anders Llungar-Chapelon that I discovered that the Suzuki Approach could be used to teach the flute as well. Anders had taught me several times whilst I was at the Oxford Flute Summer School and I was interested to hear that he was a registered Suzuki teacher. Fortunately for me this was around the same time that the Suzuki World Conference was being held at Trinity College of Music in Greenwich, and it was here that I was introduced to the flautist Sarah Hanley who had studied with Dr Suzuki and Toshio Takahashi, the founder of the flute method.
I started my teacher training with Sarah in 2005 and I am due to take my level two exam in Belgium in August 2009. During this time I have taken on many Suzuki students and their parents and have taken part in numerous workshops, summer schools and concerts including the National Suzuki Concert at the Royal Festival Hall. In addition to my private students I also teach the flute at Berkhamsted School, Brigidine School in Windsor Dair House School in Farnham Common and St Mary's Roman Catholic School in Maidenhead.
As well as playing and teaching the flute I also enjoy horse riding, photography and walking my flat-coated retriever Zeus!